OLL Algorithms Page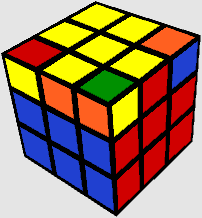 OLL is the 3rd step of the CFOP, and the "busiest" in respect of the amount of algorithms required to complete it. There are 57 different OLL variations, therefore needed 57 different algorithms to learn in order to complete the OLL step in just 1 algorithm. It is best to start with 2 look OLL and navigate your way around the full OLL (
Learn 2 Look OLL
). The algorithms are divided into groups based on the "shapes" they form on the U face.
I had
Bolded
the algorithms that I use in my solving, which I find easiest for me. In some cases I included more than 1 algorithm, and they are all great algorithms. Just try them all and decide which one works best for you.
Some of the algorithms starts with (y) / (y') / (y2). I put it in round brackets because these are not actual moves (unlike such notations in the middle of an algorithm), because you have to "y" rotate the cube anyway to get the required angle for any algorithm. It's just that these algorithms start with a different angle than the one shown in the image.
The "[ ]" square brackets in the algorithms represents the fingertricks. The move sequences inside the [] are moves that can be done using fingertricks without breaks or re-grips in between, and with some practice they can become terribly fast. I kept the algorithms relatively empty of such notations, as there is no one approach for that, and everyone has his own style. Consider them as guidance only.
All Edges Correctly Oriented
Alg. No.
Image
Algorithm
Algorithm
Image
Alg. No.
27
L U L' U [L U2 L']
(y2) R U R' U [R U2' R']

Name: Sune. The most recognized OLL algorithm.
R' U' R U' R' U2 R
(y) R U2 R' U' R U' R'

Name: AntiSune.
Mirror of the Sune algorithm. Distinguished from the Sune by the side the non-oriented corners are facing. Easy to recognize after placing the oriented corner at the back.
26
21
R U2 R' U' R U R' U' R U' R'
(y) R U R' U [R U' R' U] [R U2 R']
F [R U R' U'] [R U R' U'] [R U R' U'] F'


R U2' [R2 U'] [R2 U'] R2 U2' R

Algorithm can be easily recognized by the 1 pair of headlights, to be faced to the left. Tip: the right hand leaves the cube completely after R2 and regrip toward the next R2 turn.
22
23
R2 D [R' U2 R] D' [R' U2 R']

Name: Superman.

l' U' L U R U' [r' F]

24
25
[R' F R B'] [R' F' R B]

No Edges Correctly Oriented
Alg. No.
Image
Algorithm
Algorithm
Image
Alg. No.
1
R U2 [R2' F R F'] U2' [R' F R F']

Recognized by 2 bars (3 stickers in a row), to be faced to the sides.
[F R U R' U' F'] [f R U R' U' f']

Recognized by a single bar, to be faced to the left. This algorithm is a combination of T orientation + P orientation.
2
3
(f R U R' U' f') U' (F R U R' U' F')

Made of P orientation + U' + T orientation. Recognition: when is in the correct angle, the 2 stickers in the L face are lined up with the center piece and the corner piece.
(f R U R' U' f') U (F R U R' U' F')

Made of P orientation + U + T orientation. Recognition: when is in the correct angle, the 2 stickers in the L face are lined up with the center piece and the corner piece.
4
17
[R U R' U] [R' F R F'] U2 [R' F R F']

The correct angle is when the 2 sticker blocks on the sides are on the B & L faces, and form together with the corners an arrow shape facing toward the L & B faces.
M U R U R' U' M2 [U R U' r']

20
18
[F R U R' U] y' R' U2 [R' F R F']

Recognized by the stickers bar, to be faced at the back of the cube (B face).
[r' R] U [R U R' U'] r [R2' F R F']
M U [R U R' U'] M' [R' F R F'] (same; M instead r' R)
Recognized by the lack of stickers bar (unlike case #18)
19
C shapes
Alg. No.
Image
Algorithm
Algorithm
Image
Alg. No.
46
R' U' [R' F R F'] U R

Recognized by the stickers bar, to be faced to the right.
R U R2 U' R' F R U R U' F'

Recognized by the lack of a stickers bar. I do the last F' using my right hand ring finger.
34
I shapes
Alg. No.
Image
Algorithm
Algorithm
Image
Alg. No.
55
R U2 R2 U' R U' R' U2 F R F'
(y) R' F R U R U' R2 F' [R2 U' R' U] R U R'
Recognized by the 2 sets of sticker bars, to be faced to the sides.
R U R' U R d' R U' R' F'
R' U' R U' R' d R' U R B
Recognized by having a single bar. To be faced to the right.
52
51
f [R U R' U'] [R U R' U'] f'

Recognition: No bars, having 2 blocks of stickers & headlights. Headlights to be faced to the left. (Similar in shape and positioning to case # 2)
[F R U R' U' R] F' [r U R' U'] r'
(y) [f R U R' U' f'] [F (R U R' U') (R U R' U') F']
No bars or blocks. Recognized by 2 pairs of headlights, to be faced to the sides.
56
L shapes
Alg. No.
Image
Algorithm
Algorithm
Image
Alg. No.
48
F [R U R' U'] [R U R' U'] F'

Recognition: No bar, headlights. headlights facing to the left when L shape is correctly positioned.
R' U' [R' F R F'] [R' F R F'] U R
[F' L' U' L U] [L' U' L U] F

Mirror of #48. Headlights facing to the right when L shape is correctly positioned.
47
54
[r U R' U] [R U' R' U] [R U2' r']

Recognized by having bar & headlights. headlights facing to the right.
[l' U' L U'] [L' U L U'] [L' U2 l]
(y2) r' U' R U' R' U R U' [R' U2 r]

Mirror of case #54. Headlights facing to the left.
53
49
[R' F R' F'] R2 U2' y [R' F R F']

Recognized by having bar & a block (also no headlights). Bar is facing to the left.
R' F R2 B' R2' F' R2 B R'
(y2) R B' R B R2' U2 [F R' F' R]

Mirror of case #49. Headlights facing to the right (on main algorithm).
50
P shapes
Alg. No.
Image
Algorithm
Algorithm
Image
Alg. No.
44
f [R U R' U'] f'

Recognized by having a bar. The bar is facing left (when P is upside-down as it should).
f ' (L' U' L U) f
(y2) R' U' F R' F' R U R

Mirror of #44. The bar is facing right (when P is upside-down).
43
32
R U B' U' R' U R B R'
R d L' d' R' U R B R'

Recognized by not having a bar. P shape is upside-down on the right.
[R' U'] F [U R U' R'] F' R

Mirror of #31.
31
T shapes
Alg. No.
Image
Algorithm
Algorithm
Image
Alg. No.
45
F [R U R' U'] F'

Recognized my the lack of sticker blocks. Very fast algorithm.
[R U R' U'] [R' F R F']

Recognized by having 2 parallel sticker blocks.
33
W shapes
Alg. No.
Image
Algorithm
Algorithm
Image
Alg. No.
38
[R U R' U] [R U' R' U'] [R' F R F']

Recognition: when the W shape is correctly positioned- the sticker block will be at the side, and not on the front.
[L' U' L U'] [L' U L U] [L F' L' F]
(y2) [R' U' R U'] R' U R U R y [R' F' R]

Recognition: when the W shape is correctly positioned- the sticker block will be at the side, and not on the front.
36
Awkward shapes
Alg. No.
Image
Algorithm
Algorithm
Image
Alg. No.
30
R2 U R' B' R U' R2 U R B R'

Recognized by having a stickers block. The last B turn is done by the right hand index finger.
M U [R U R' U'] [R' F R F'] M'
(y) [R U R' U'] R U' R' F' U' [F R U R']
L2 U' L B L' U L2 U' [r' U' r]

Mirror of case #30. Recognized by having a stickers block.
29
41
[R U' R' U2] R U y R U' R' U' F'
(y2) [R U R' U] [R U2 R'] [F R U R' U' F']

Recognized by having headlights.
R' U2 [R U R' U] R y [F R U R' U' F']
(y') [L' U L U2] L' U' y' L' U L U F
[R' F R F'] [R' F R F'] [R U R' U'] [R U R']

Mirror of case #41. Recognized by having headlights.
42
Fish shapes
Alg. No.
Image
Algorithm
Algorithm
Image
Alg. No.
37
F R U' R' U' R U R' F'

Recognition: 2 sticker blocks. Very fast and flowing algorithm.
R U2' [R2 F R F'] [R U2 R']

Recognition: No sticker blocks (unlike #37)
35
10
[R U R' U] [R' F R F'] [R U2 R']
[R U R'] y R' F R U' R' F' R

Recognition: when positioned correctly stickers block is on the back face.
[R U R' U' R' F] R2 U R' U' F'
[R' U' R] y' x' R U' R' F R U R'

Mirror of #10. When positioned correctly stickers block is on the front face.
9
Knight Move shapes
Alg. No.
Image
Algorithm
Algorithm
Image
Alg. No.
13
r U' r' U' r U r' y' [R' U R]

Recognition: 2 sticker blocks.
R' F R U R' F' R y' [R U' R']

Mirror of #13. Recognition: 2 sticker blocks.
14
16
[r U r'] [R U R' U'] [r U' r']

Recognition: 1 stickers block.
[l' U' l] [L' U' L U] [l' U l]

Mirror of #16. Recognition: 1 stickers block.
15
Big Lightning Bolts shapes
Alg. No.
Image
Algorithm
Algorithm
Image
Alg. No.
40
[R' F R U R' U' F'] U R


[L F' L' U' L U F] U' L'

Mirror of #40.
39
Small Lightning Bolts shapes
Alg. No.
Image
Algorithm
Algorithm
Image
Alg. No.
8
R U2' R' U2 R' F R F'
(y2) r' U' R U' R' U2 r

Recognition: The stickers block is lined up with the head of the lightning bolt (the edge+center).
[r U R' U] [R U2' r']

Mirror of #8.
7
12
[F R U R' U' F'] U [F R U R' U' F']
(y) M U2 [R' U' R U' R' U2 R] U M'

Recognition: The stickers block is not lined up with the head of the lightning bolt (the edge+center).
[F' L' U' L U F] y [F R U R' U' F']
y [r U R' U] [R' F R F'] [R U2 r']
(y') r' R2 U R' U [R U2 R' U] M'

Mirror of #12.
11
Square shapes
Alg. No.
Image
Algorithm
Algorithm
Image
Alg. No.
6
r U2' R' U' R U' r'


l' U2 L U L' U l
(y2) r' U2 R U R' U r

Mirror of #6.
5
Arrow & H shapes
Alg. No.
Image
Algorithm
Algorithm
Image
Alg. No.
28
M' U M U2 M' U M

Name: Arrow.
I actually use [r' R] instead of M. For M' I use my right hand ring finger. Pretty quick alg.
[R U R' U'] M' [U R U' r']

Name: H Shape.
57